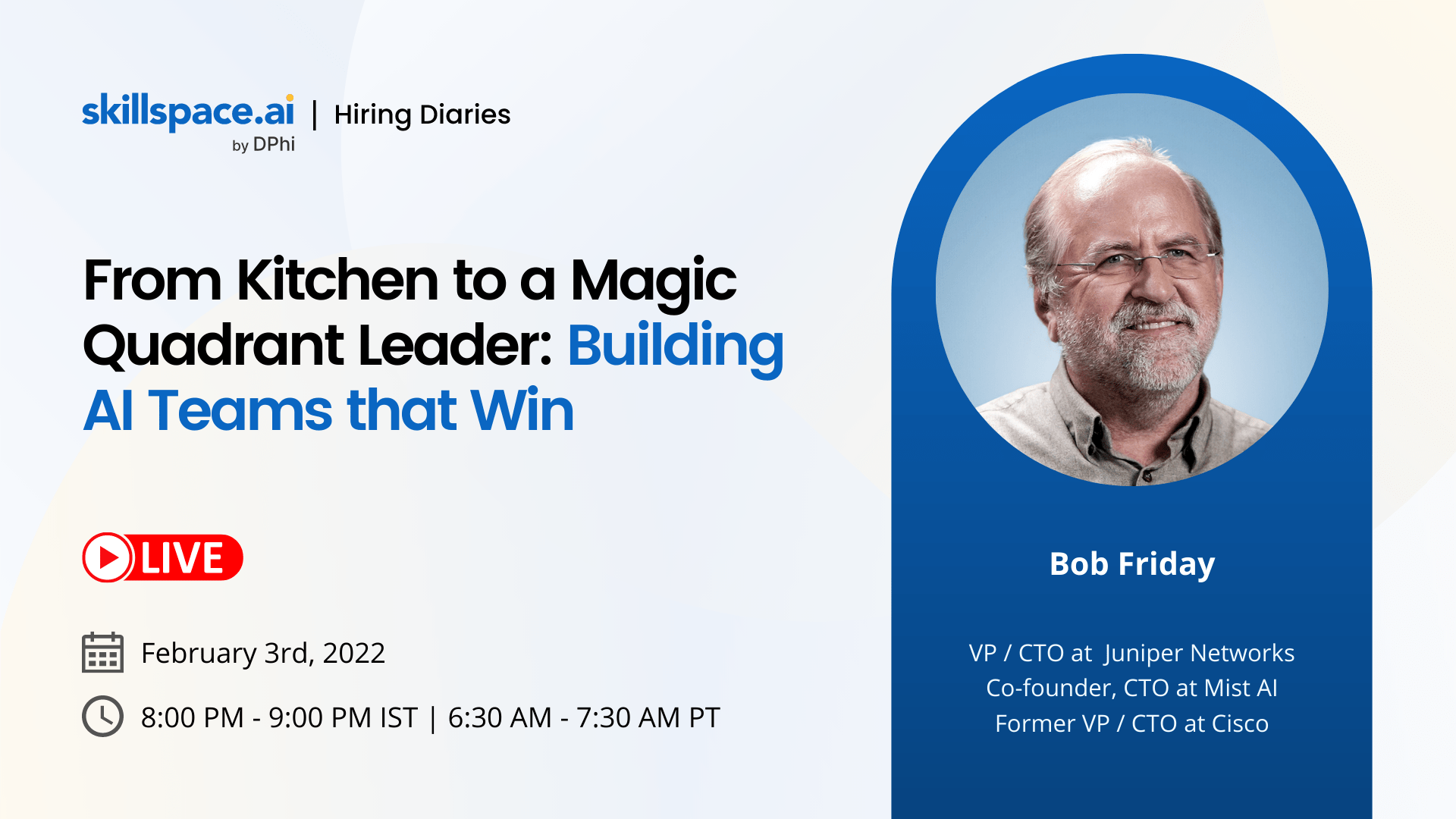 From Kitchen to a Magic Quadrant Leader: Building AI Teams that Win - with Bob Friday, VP / CTO of Juniper Networks | Hiring Diaries
HBR estimated that AI will add $13 trillion to the global economy this decade. Approximately 56% of all organizations are using AI in at least one function, according to McKinsey's recent report on the state of AI. Yet there are formidable barriers for upcoming organizations. Attracting and retaining great talent during The Great Resignation is already challenging, but hiring in AI-related functions poses its unique problems, given the lack of understanding about best practices and the acute shortage of the right talent. Which is the best approach to treading the initial journey of an AI startup and scaling it to hire the best data science teams? In the coming episode of Hiring Diaries with Bob Friday, we will discuss various aspects of an AI startup's initial journey and building great data science teams. 
Bob Friday is a serial technology entrepreneur and currently the Vice President & CTO of Juniper's AI-Driven Enterprise business. His work in the area of self-learning wireless networks contributed to the organization becoming a Gartner Magic Quadrant Leader within a short timeframe. Formerly, Bob co-founded Mist AI and Airespace, both highly successful AI companies. In 2019, Juniper Networks acquired Bob's last venture, Mist AI, for $405 million, making it a notable strategic development of its time. While at Cisco, Bob was the VP / CTO where he led mobile strategy and investments in wireless business. In the truest sense of the word, Bob is experienced in building great AI teams and startups, which have led to his companies being industry leaders.
Highlights of the webinar:
In Bob's journey of doing an IPO and two big company acquisitions, how has raising money changed over the last 20 years?

Theory and the product behind Mist AI.

Ground reality of AI implementation. Is AI overhyped?

Hiring the first set of data scientists at an organization.

What should be the difference in approach while hiring data scientists at startups and versus an enterprise?
Insight into AIOps and its recommended hiring practices.
Parameters to look for while hiring data scientists and MLOps professionals.

Key levers that took Mist from a blank sheet of paper to the Gartner Magic Quadrant leader in just six years?

Starting up a tech venture in today's world.
As a way of welcoming you to the Skillspace.ai ecosystem, we're offering $200 worth of Skillspace.ai credits for free. Registered participants will have to opt-in for the credits in the post-event email from the organizers.
Skillspace.ai is a platform for delivering better experiences for end-to-end technical assessments at scale. The platform is trusted by a range of early-stage startups to Fortune 500s and is built by DPhi. 
DPhi is a global community of 100K+ AI enthusiasts from 140+ countries. The initiative aims to democratize data science learning and build an ecosystem to engineer the future of AI. To know more about DPhi, you can visit here. To know more about Skillspace.ai, you can check out this page.