Save upto $3K on choosing
the leading Mettl alternative

for Tech Hiring Assessments
With Skillspace.ai, you get better user experience, customer support, and hands-on assessments functionalities for at a price that'll truly refactors your hiring process.
Why are companies
comparing Mettl Vs Skillspace.ai?
Mettl and Skillspace.ai are pre-employment screening platforms that allow companies to improve their hiring process with technical assessments. There are common functionalities available on all of these platforms, such as Test Creation, Questions Library, Live Coding Interviews, MCQ-format questions, and the possibility to integrate your ATS. Mettl is known for its wide range of MCQ-based tests and its name became more well-known after Mercer acquired it. However, Mettl has limited functionalities, and it often circles back to having a variety of standard MCQ-based tests. In contrast, technical support, candidate experience, and a hands-on assessments approach are areas where you might not find great reviews on the platform. At Skillspace.ai, we are aware of the importance involved on both the candidate and employer end, and this is reflected in our features and practices.
Skillspace.ai

Vs

Mettl's Pricing and Features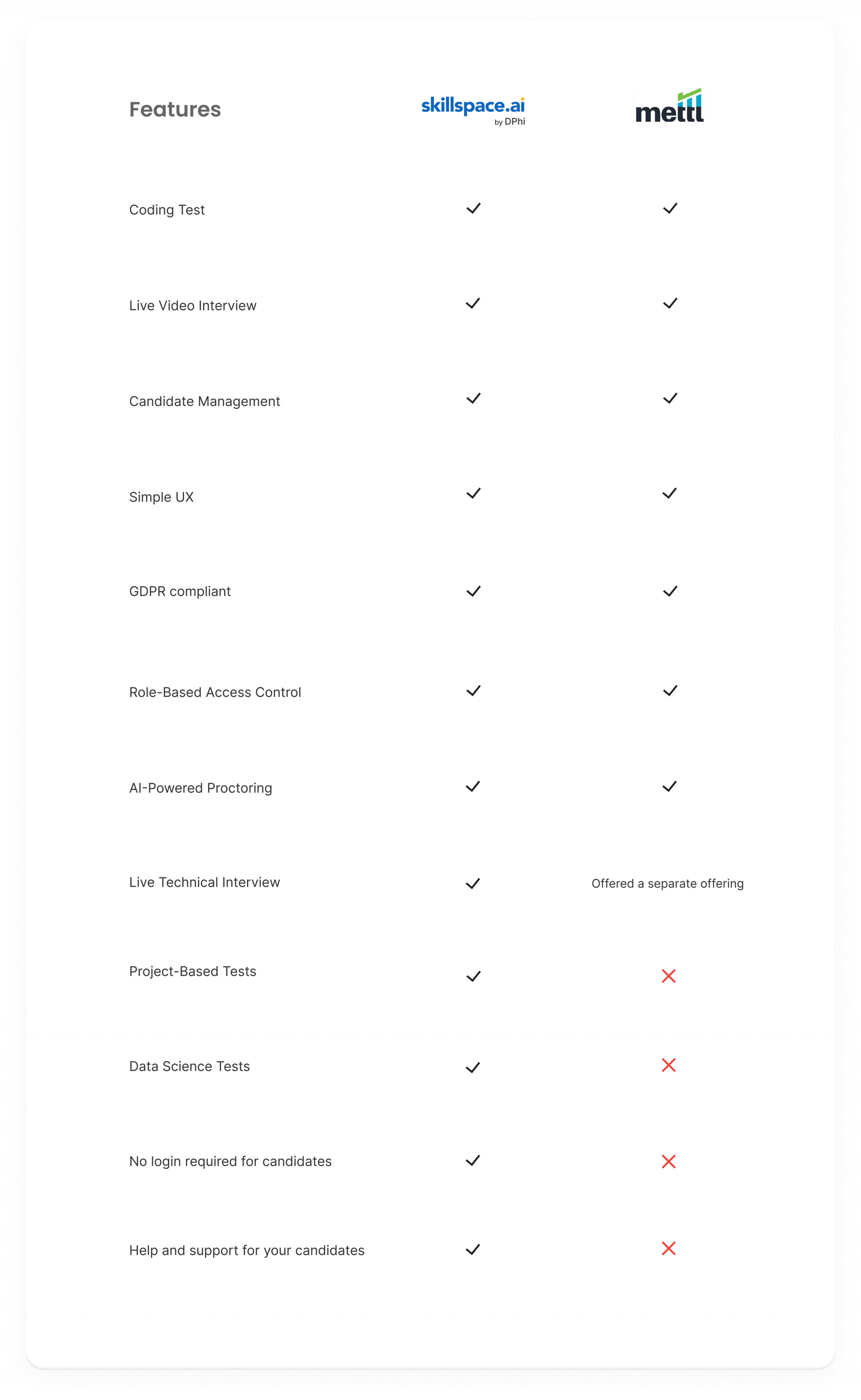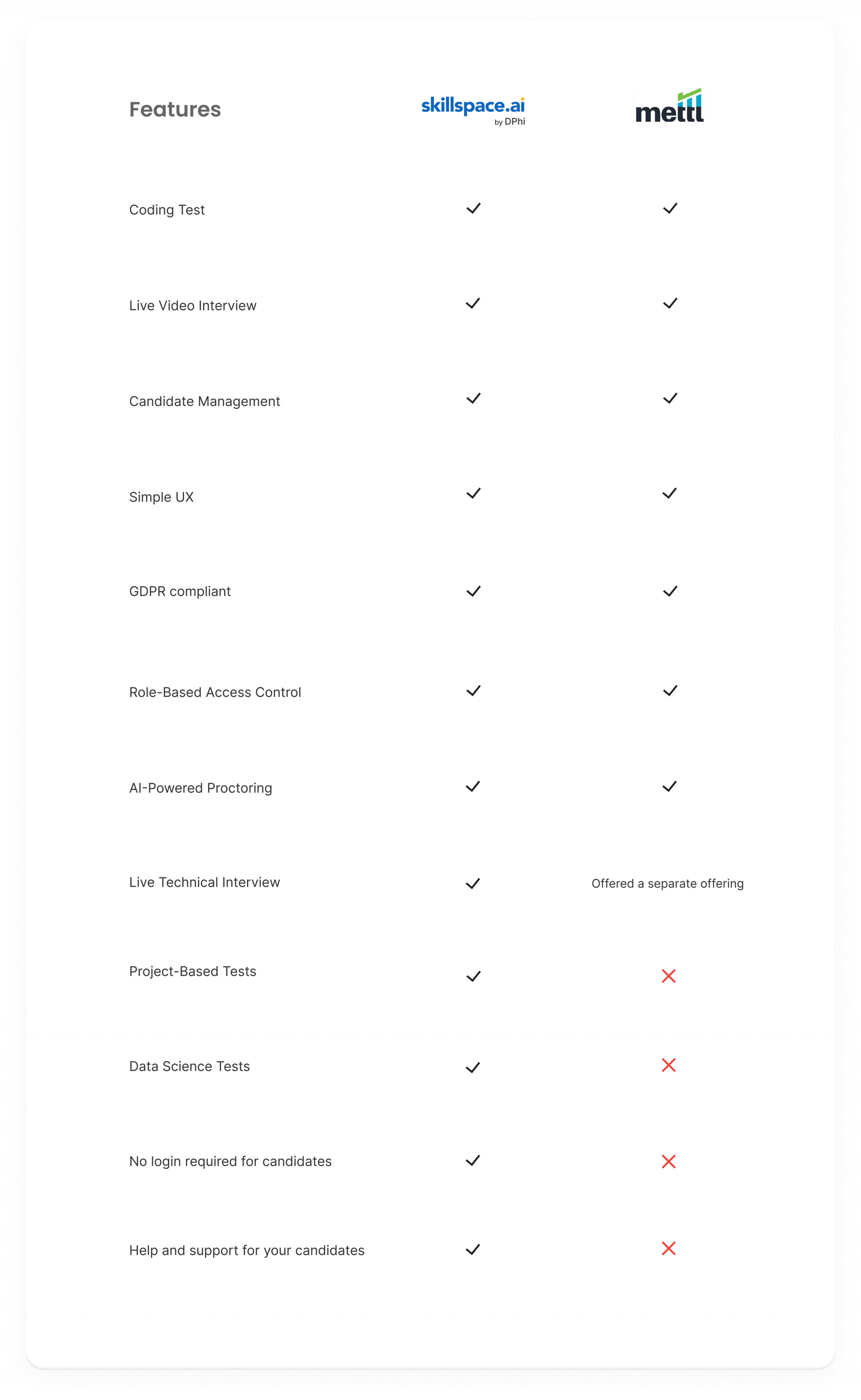 Book a Demo with Skillspace.ai to see for yourself
Mettl's Starter Plan costs 67% more than Skillspace.ai's
On top of this, you get the Choice to use
With Skillspace.ai Partner Program, you can use the platform for free for the next two months and avail special discounts. We have partnered with a range of global VC's and Accelerators to offer benefits to their portfolio companies.
What Our Clients Say About Us
The team supported us with a few custom features to provide a gamified experience through a real-time leaderboard. We were highly satisfied by the outstanding support and look forward to continuing our association".
Subramanian K
Engineering Leader, Cisco
We strive to deliver world class products to 100 mil+ users of Trell. For this we've always explored impactful avenues. I'm delighted that we could find a great partner who helped us with our first Data Science Challenge".
Neeraj Kumawat
VP Engineering, Trell
Skillspace.ai delivers what it claims. It has a significantly simpler interface and it did help us identify the best talent in our candidate pool which saved our tech leaders' time massively and expedited the process.
Nishkarsh Bansal
Founder and CEO, Doubt Buddy
We gave a real-world AI challenge on the platform. Their onboarding process was seamless. Within a short span of time, we were able to open up the audience to our challenge globally.
Harish P
Co-founder and Product Head, Segmind
With DPhi we could invite ambitious teams to join our challenge. The teams who joined us to develop a more accurate algorithm have created the foundation for us to forecast earthquakes like we forecast the weather.
Frederick B
Organizer, AETA by Peking University & Capgemini
They clearly have a very customer-oriented approach. They were always available to address queries. Plus, for candidates, the interface was far superior to the alternatives we have evaluated and used.
Neeraj Yadav
Sr. Data Scientist, Hora AI
Refactor your hiring by switching to the best Mettl alternative