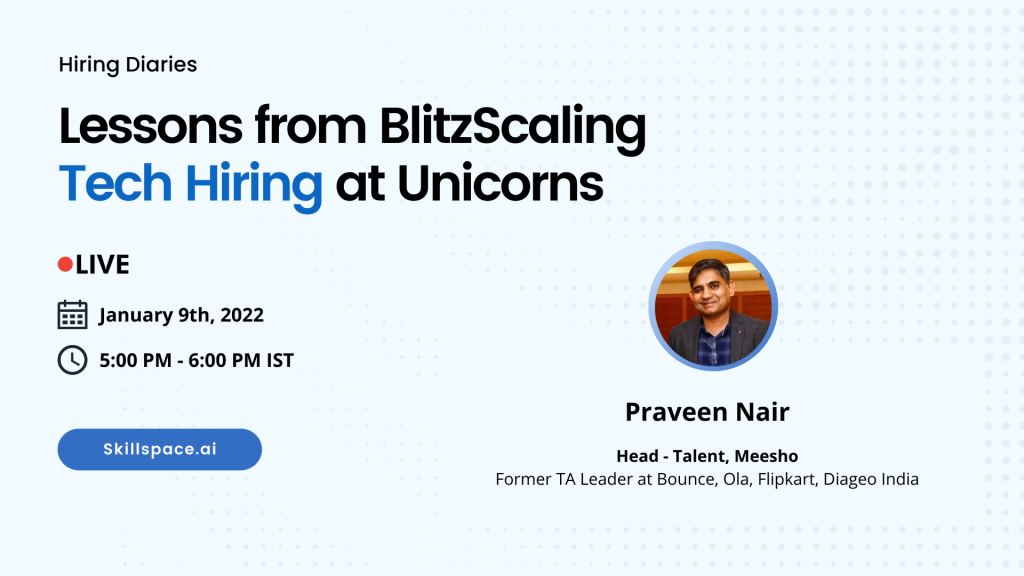 Lessons from Blitzscaling Tech Hiring at Unicorns - Skillspace.ai Hiring Diaries

It's "The Great Resignation" that's sweeping the world in unprecedented ways. In addition to the massive influx of venture capital money, there is a great demand for hiring the best technology talent at very high velocities and at scale. In the upcoming episode of Hiring Diaries, we will hear and learn from Praveen about the experiences he has gained while leading some of the largest technology unicorns in India.
In his current position, Praveen heads talent for Meesho, an Indian technology unicorn valued at around $5 billion. In the past, he has been a talent acquisition leader for Bounce, Ola, Flipkart, and Diageo India – all of which have been through phases of blitzscaling people processes and tech hiring amidst stiff competition for top-notch talent. He also comes with a stellar experience of founding and leading GreyFlex Consulting, an HR solutions provider to Large and Medium Enterprises in Asia.
Highlights of the webinar:
Optimizing hiring funnels at scale: practices that worked.
Culture-first tech hiring in a time of skewed supply-demand.
Surging recruitment with the right technology stack
Forging the right partnerships at high velocities
Preparing for hiring sprees at growth-stage startups 
And more.
As a way of welcoming you to Skillspace.ai ecosystem, we're offering $200 worth Skillspace.ai credits for free. All the registered participants will receive the credits after the event, via email.
Skillspace.ai is a platform for delivering better experiences for end-to-end technical assessments at scale. The platform is trusted by a range of businesses starting from early-stage startups to Fortune 500s. To know more, you can visit here